I promised a friend this recipe decades ago, so here ya go! This is one of my many all-time favorites and it's not just good in the fall---it's good all year round! I love pumpkin though, so I am a bit bias.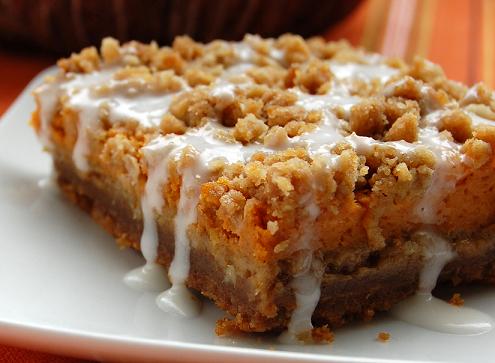 ~Gingerbread Pumpkin Delights~
2 1/4 c. flour
1 1/2 tsp. baking soda
1/2 tsp. salt
1 1/2 tsp. pumpkin pie spice (I usually just dump in some cinnamon, nutmeg, cloves, and ginger)
16 T butter, soft
1 1/2 c. sugar
1/4 c. molasses
Mix all these ingredients in a small bowl. Reserve 3/4 cup of this and set aside. Put rest in largest jelly roll pan you have. 10x15 is recommended.
Add 1/3 c. oats to the reserved 3/4 cup mix and set aside for topping
Filling:
6 oz. fat free or regular cream cheese
1 3/4 c. pumpkin
1/2 c. sugar
1 tsp. vanilla
1 1/2 tsp. pumpkin pie spice (again, I just add a bit of the other stuff if I don't have this)
2 eggs
Beat and spread on the uncooked base.
Crumble reserved oat mixture over filling. Bake at 350 for 25-30 minutes. Remove and cool.
Drizzle (optional): 1 cup powdered sugar, 1 T butter , soft, 1/4 tsp. vanilla, and 1-2 T milk.
Drizzle over cooled bars.
Simply amazing!!! You may end up not wanting to share!